SmartSpaces Platform
It's Time to Integrate
Sensyon SmartSpaces™ is a proven integration platform for intelligent IoT. Now it's simple to consolidate disparate vertical solutions, technologies and data formats into a seamless, flexible IoT ecosystem that delivers insightful analytics and collective intelligence – all from one intuitive dashboard.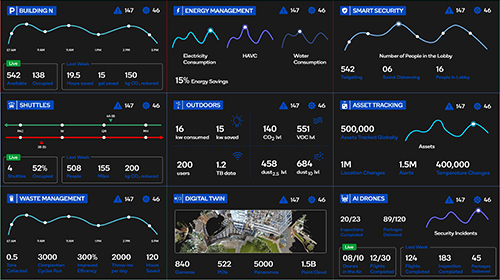 Every IoT Device. Connected.
A flexible, secure, scalable architecture unlocks the full potential of connected IoT devices – including those already deployed – to deliver actionable intelligence that improves decision making, day-to-day management and long-term efficiencies. Gain complete visibility of what is happening across your entire network of connected sensors and IoT devices in real-time.
Learn more about SmartSpaces solutions

Mobile App
The Intelligence
of Things
Through smart insights, Sensyon converts your Internet of Things into the Intelligence of Things. Receive instant alerts and notifications about issues that matter. Drill down through the layers of data to focus on solving problems using analytics and historic trends.
With Sensyon SmartSpaces™ you can:
Improve operational efficiencies
Make smarter, faster decisions
Enhance the quality of life for employees, workers, residents and citizens
Provide intuitive experiences for your stakeholders
Improve building/campus/city safety
Achieve faster ROI (typically < 1 year)